Before we get into it, lerrus pray. Fada lawd, is me ya girl, give me my own dinner-at-The-Eko-Hotel-rooftop, hotel-in-my name-buying-Deji! Eeeevery spirit, blocking my Deji from locating me, die by fire!!!! (When you finally watch this movie, you'll understand this prayer)
'The Royal Hibiscus Hotel' is as simple as they come as far as romantic comedies go. There were moments that shone, moments that shouldn't have existed (I'm looking at you Aunty Joke and Uncle Olu) and moments that were poorly executed.
The story follows Opeoluwa Adeniyi (Zainab Balogun), living in London, working as a chef at a dead-end job while trying to open her own restaurant and then decides to return to Nigeria after (that really weird scene with the – I want to say – banker) her bank loan application falls through.
She is the only child of Segun  (Jide Kosoko) and Rose Adeniyi (Rachel Oniga), who run a charming, but run-down hotel set in Lagos, Nigeria. The hotel isn't turning a profit, and so in desperation, Mr Adeniyi decides to sell it. On her return, Ope meets Deji (Kenneth Okolie), a charming young businessman with a secret that threatens her plans to restore the hotel's fortunes. A fairly simple story right? Wait until the actors try to execute it.
As Ope, Zainab Balogun (who I think is so beautiful) had moments when she shone. I've always thought she's one to watch amongst this new crop of actors but something was quite off with this movie. Her first few scenes were overtly methodical and poorly executed (it also didn't help that she was paired with some Grade Z oyibo actors) but the scenes where she appears with loverboy, Deji, were fun and warm and would've worked much better if anyone but Kenneth Okolie had played the character.
Yes, you're a hunk, bhet can you act? No!
While Kenneth Okolie had the looks of a billionaire bad boy down pat, that's where it ended for me. He was stiff and seemed unable to truly connect with his character (as he usually is tbh in every movie I've ever seen him in). If all he had to do, was catwalk (do men catwalk?) to the sound of Mr Eazi's 'skin tight', we would have all been content to swoon with joy and lust the way Chika the receptionist did but alas, na feem you come act, no be runway you come walk.
I wish O.C Ukeje had been cast as Deji instead of Felix the friend/brother-zoned guy (That scene drew a laugh from me that was so loud, other moviegoers turned to stare). For a role as crucial as the one Okolie played, they needed an actor who wasn't acting.
Ukeje is quite the natural and the few minutes of screen time he got were enough to leave you wanting more. He also managed to help Zainab shine (well at least before we get to that scene in the garden where Zainab had her "take me like your sister…" monologue).
Rachel Oniga and Jide Kosoko were out of their depths as Chief and Mrs Adeniyi.
It was sad to watch such great actors try and fail to bring their characters to life.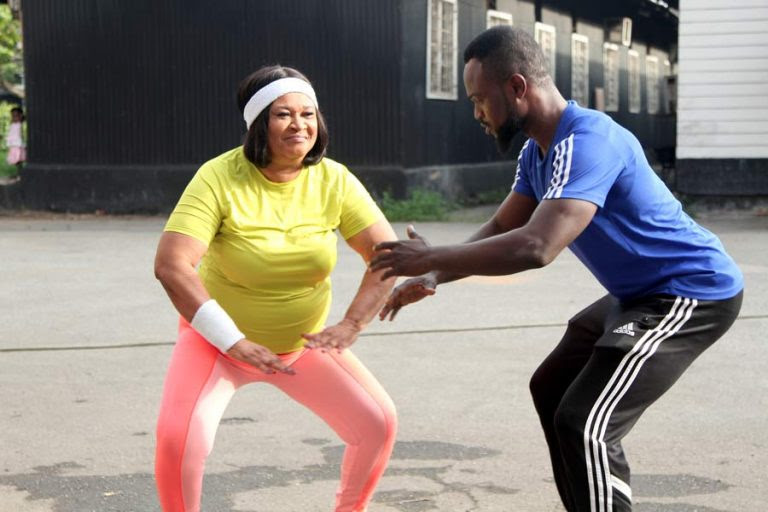 As Mrs Adeniyi Rose, Rachel Oniga was supposed to be an eccentric Yoruba mommy obsessed with 'dieting' and looking good for her husband and (like every Nigerian mommy), marrying off her daughter. Watching her try to portray that role was tough. You could tell she was trying really hard to be funny and quite frankly, it was pitiful. It felt like I was watching a 2D version of Mrs Tinude Coker (Shola Shobowale) from The Wedding Party.  Except you're telling me all Yoruba mummies are that way?
Jide Kosoko's character, on the other hand, lacked depth and did nothing else but ward off his wife's advances and hide his big secret. With both characters, there was a general sense of inauthenticity.
Why these two were not cast as Mr and Mrs Adeniyi beats me. How do you take the legend that is Joke and Olu Jacobs and make them into a poorly defined cameo? Y'all are cancelled!
Now, for all it's (editing) woes, the movie wasn't all bad. The soundtrack was great, I loved it's very urban take on sex and romance, picture and sound checked out for me and characters like Chika (Kemi 'Lala' Akindoju), Michael (Charles Inojie) and Martin ( Deyemi Okanlawon) were irritating or hilarious enough to stand out. I even think Deyemi would have made a better option to play the Deji character.
The editing and transitions between scenes were shoddily done. This scene in the kitchen with Mrs Adeniyi, Ope and Michael the Chef, further exposed some of the editing flaws I had picked up. (When are we going to get 'phone calls' right?)
Their bests scenes were ruined, in my opinion, by Ishaya Bako's decision to intercut that iconic dinner scene with other equally important ones. I thought it was crazy to go from dinner at the rooftop of Eko hotel to conversations between Mr and Mrs Adeniyi complaining about Augustina and Richard getting frisky in the toilet and then back to dinner and then over to Martin and Chika and then back to dinner and then back again to Segun's big reveal. Urrghhhhhhhhhh!!! It was terrible and made these scenes which would have been much more powerful by themselves, less so.
Zainab and (gasp) Kenneth did manage to pull off the cliché "stunning demure beauty in a red dress at the top of a staircase with the lover waiting while on his phone at the foot of the staircase just so that he can turn around as she walks in and be awestruck". They got that right. Zainab also got the "suddenly shy but still sassy girl" part at dinner, right.
In all, if you are looking for a poor cliché of a romcom to spice up your date night, I would recommend this one. You might zone out a few times (i did) because it gets boring pretty fast but you'll laugh a few times and "aww" at others and if you're female or gay, you'll definitely join in my prayers for a 'Deji' of your own.
As a romantic comedy, it had such potential. Shame they didn't adequately tap into it. Over 5? Issa 2 from me.

Ⓒ Copyright NET News Ltd. All Rights Reserved. Please use sharing tools. Do not cut, copy or lift any content from this website without our consent.