In times of tragedy, Nigerian fans have always huddled close and supported their celebrities.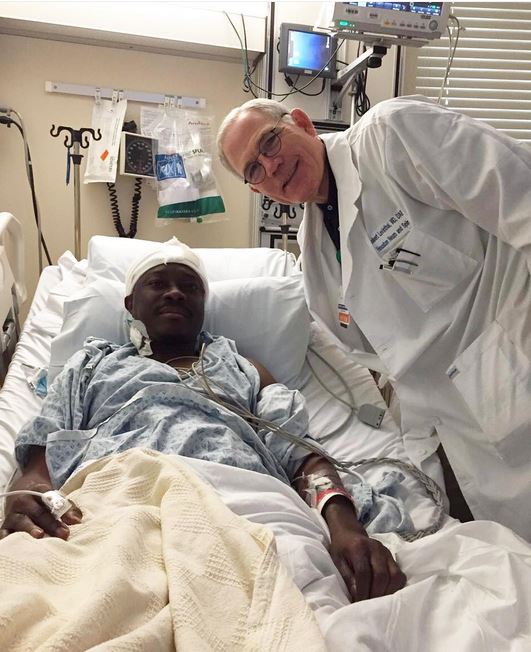 Since he underwent surgery for a brain tumour in 2015, Julius Agwu has spoken of his close shave with death and how he has gotten close to God as a result.
He has made some sort of comeback, being in the spotlight and organizing his now annual Crack Ya Ribs comedy show in London. However, in a surprising development, Julius was conspicuously missing at his own show, amid rumours of a relapse.
It soon emerged that he suffered a medical emergency and had to be quickly admitted into an undisclosed hospital. His wife, Ibiere, confirmed as much when she took to Twitter to thank well-wishers that have wished them well in the '96 hours'.
On the contrary, his publicist Seun Apara told TheNET that 'Julius was fine and doing well', just like a publicist would.
Nevertheless, the outpouring of love and prayers haven't ceased from Nigerian fans and it's touching.
It's common for entertainers to rant and rail about 'critics' and 'haters' who don't wish them well. Many artistes have acted belligerently towards fans, taking for granted the love and admiration fans have for them.
But as we have seen in times of tragedy, Nigerian fans have huddled close and supported their celebrities. They were eager to raise funds for OJB for his kidney transplant and they were sad to hear of his passing. Ditto Nomoreloss, Zara Gretti, Goldie Harvey, Kefee and many of our dearly departed.
Earlier today, we at TheNET encouraged fans to say a word of prayer for Julius and they have been relentless in conveying their best wishes for the comedian. Although the family and management have not disclosed the extent of the man's illness, it is rather heartwarming to see that fans are united in praying for his quick recovery.
Get well soon Julius!
Ⓒ Copyright NET News Ltd. All Rights Reserved. Please use sharing tools. Do not cut, copy or lift any content from this website without our consent.