'I'm Not Fela And I Don't Want To Be Him' – Femi Kuti Replies Critics
Femi Kuti has once again replied to critics who continue to compare him to his late father and pioneer of the Afrobeat genre, Fela Anikulakpo – Kuti.

Following the release of Falz's 'Moral Instruction', a socio-political album which drew samples from three Fela songs, some fans took to twitter questioning why Femi's songs are not as critical as his father's.

But Femi responded by saying he does not want to be his father and that he has nothing to prove after putting out 10 albums.

 "I've said it several times, I probably will have to repeat till I die, I don't want to be my father," Femi tweeted in response while also saying he didn't inherit the Afrobeat genre but it's the style of music he grew up with.
Falz's New Album Forces Basketmouth To Postpone Release Of His Film "The Exorcism of Alu"
So much for being friends…
Falz may still be basking in the euphoria of the release of his new album Moral Instruction, the widespread commentary it is generating has forced comedian Basketmouth to postpone the release of his own new movie, The Exorcism of Alu.
The horror thriller was billed to hit the cinema yesterday 15th January and Basketmouth cheekily accused Falz of making him postpone it.
"Falz, hope you're aware that I pulled out from releasing my movie today because of this your album!!' he wrote on Instagram with a photo of the album cover.
Rihanna Sues Her Father For Stealing Her Fenty Beauty Brand Name
Rihanna is dragging her own father to court for using her Fenty Brand name to launch several businesses for himself.
But this comes as a surprise because Rihanna got the name from her father, Ronald Fenty. The plot twist here is that Rihanna is using the law against her father because she trademarked the 'Fenty' name for her beauty and lingerie line.
In the new lawsuit obtained by TMZ, Rihanna claims that dad, Ronald Fenty, recently started a talent development company in 2017 called Fenty Entertainment. The problem started when  Rihanna went on to trademark the name"Fenty" (which is her surname) to use in a number of business ventures, including her global brand; Fenty Beauty line.
Rihanna thus claims her dad is making some profit off the wealthy reputation she's created with Fenty beauty.
DJ Khaled Joins Cast Of "Bad Boys For Life"
Earlier this week, it was announced that the long-awaited third instalment of the 90's action-comedy series Bad Boys had commenced filming, starring Martin Lawrence and Will Smith. Now, hiphop producer and record label exec DJ Khaled hasrevealed that he too has joined the cast. Not only that, he's aiming to win an Oscar Award for his acting.
NEW MOVIE ALERT!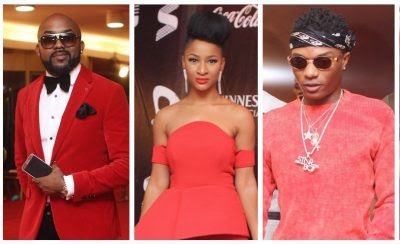 Banky W Finally Speaks On Wizkid Missing His Wedding- "People Were Unfair And Harsh On Him"
A few days ago, Banky W spoke publicly for the first time about how his former protege and signee Wizkid missed his wedding to Adesua Etomi a little over one year ago.
At the time, Wizkid did not attend either of the celebrations in Lagos and Cape Town, leading many fans to suggest there was a beef between them. Some even went as far as calling Wizkid "an ingrate" who no longer respected Banky W.
The singer, songwriter and now political office candidate thinks the criticism was unfair on Wizkid.
In a recent interview with This Day, Banky W said, "I think people unfairly judged Wiz and a lot of them were a little bit too harsh on him for missing my wedding. Many people forget that around the time of my traditional wedding was also when One Africa Music Fest was going on in Dubai. So, there were many other artistes at the event, who were struggling, trying to make it back to catch up with the wedding."
"He Drives A 2018 Lamborghini"- Neighbours Complain About John Boyega's Pastor Cousin
Tobi Adegboyega, the 38-year-old cousin of Hollywood film star John Boyega is been accused of upsetting his neighbours in the UK highbrow city of Surrey.

According to the Daily Mail, Adegboyega who is a pastor is fond of speeding through the quiet neighbourhood in his exotic cars and hosting noisy parties. He was said to have hosted a particularly loud one on Christmas Eve.

Some of the neighbours who spoke to the British paper said they didn't know what business he did, apart from being a pastor, that could afford him luxuries such as his £2.5 million pound home, his vehicles and his high-end fashion choices.
"I don't know where he gets his money from but he used to drive a 2018-plate Lamborghini with a personalised number plate 'PA5TOR', which is worth about £200,000 and now has a Roller. If I'd known that being a Pastor was so lucrative I'd have taken it up as an occupation too," an unidentified neighbour said to the Daily Mail.
Adegboyega himself is dismissive of the accusations, calling the neighbours "resentful and racist".
#HappyBirthdayAaliyah! Check Out These 8 Evergreen Photos Of The Late Singer
It would have been Aaliyah's 40th birthday today.
In remembrance of  the late singer who passed away in a plane crash on August 25, 2001aged 22 but still continues to be a huge influence to stars and fashionistas till date. To mark what would have been her 40th birthday, we're looking back at 8 photos of her that remains evergreen.
She was the ultimate babygirl!
We've seen Rihanna try to recreate this look a few times.
She has some of the best beauty shots of all time.
This Is The Gillette Ad That's Got Everyone Talking
In light of the recent campaigns and advocacies against misogyny, sexual harassment and toxic masculinity, razor brand, Gillette released an ad to lend their voice to the movement to get men to do better.

The ad released as a short film, is titled, 'We Believe: The Best Men Can Be' – a play on the brand's 30-year tagline, "The best a man can get", shows scenarios of sexism at play in everyday life, as well as violence between boys and news clips from the MeToo campaign.

And you would think that the message of the film is one that would be welcomed by all and sundry but that is not the case. A lot of people – read as men – on the internet have been up in arms in protest against it.

Popular British journalist Piers Morgan, for instance, tweeted that he was boycotting the brand, and even went on to write a long ass piece condemning the brand for the ad.
Harvey Weinstein's Lawyer Withdraws From Handling His Sexual Assault Case
Harvey Weinstein's defence lawyer, Benjamin Brafman, has made a decision to withdraw from the case on Tuesday.
The move followed an exclusive The Post report on Monday which revealed Weinstein and Brafman was on the brink of parting ways because the disgraced movie mogul wanted to expand his defence team after Brafman failed to get the rape and sexual assault charges against Weinstein thrown out.
Now Weinstein is in a race against time to replace Brafman ahead of his sex-assault trial scheduled to begin on May 6 at the Manhattan Supreme Court.
Mac Miller's Parents Will Attend The Grammys To Accept Any Posthumous Honours On His Behalf
The parents of late rapper and singer, Mac Miller, are expected to attend the 61st Annual Grammy Awards in his honour.

Sources close to Miller's family say his parents Karen Meyer and Mark McCormick are attending the event just in case their late son picks up a posthumous award for Best Rap Album.

Miller who passed on last September from a drug overdose at the age of 26 earned his first-ever Grammy nomination for his 'Swimming' album shortly after his death.
Ⓒ Copyright NET News Ltd. All Rights Reserved. Please use sharing tools. Do not cut, copy or lift any content from this website without our consent.