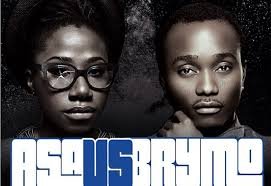 Singer, Brymo has revealed that the only musician he wants to collaborate with is France based Nigerian singer, Asa.
After his collaborations with Chocolate City artistes, Brymo has sworn off collabos.
His 6 albums star only him and he has no plans of changing that anytime soon.
He makes just one exception, and that for Asa. He hopes the France-based Nigerian singer, agrees to do a song with him.
"She is the one person who I can collaborate. What she talks about — love, social issues, everyday issues — are things that matter to me.
"Many of my colleagues collaborate because of positioning. There is so much politics involved in collaboration so I chose to sing alone.
"I have collaborated in the past but I was not satisfied with the outcome," he said.
He also said that great musicians including King Sunny Ade, KWAM1 and Ayinde Barrister sang alone; so, he is never bothered about not collaborating with others.
This post first appeared on www.citypeopleonline.com
Ⓒ Copyright NET News Ltd. All Rights Reserved. Please use sharing tools. Do not cut, copy or lift any content from this website without our consent.