Before Bose Ogulu, Burna Boy's mother and manager, took the stage at the 2018 Soundcity Music Awards to accept the biggest award of the night on behalf of her son, she wasn't the Internet's favourite cool mom-aunty combo. But after her speech ended with "Expect more madness," she quickly became social media's favorite auntie. Soon she was "Mama Burna" and "Nami." One fan tweeted, "Burna Boy's mom is the real MVP!!! Now we know where he got it from." But beyond being Burna Boy's mother and business manager, Bose Ogulu is actually well-read and well-accomplished, something fans don't know. Nigeria Entertainment Today is here for you though – here's everything you need to know about Burna Boy's mom: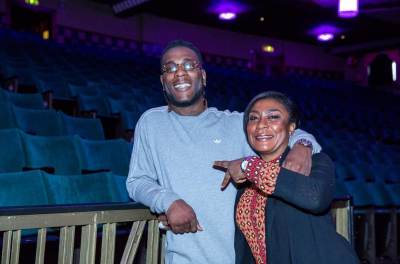 Liberal Upbringing
In the few interviews she has done, Bose Ogulu has emphasised the absence of gender roles in her upbringing. For the uninitiated, Bose Ogulu is the daughter of Benson Idonije, a legendary radio host and Fela's first band manager. "There was no importance placed on gender, it never came up," she told Okay Africa in 2019. She also says this is partly how she has managed to remain both a cool mom and a disciplinarian when she needs to be, with her three children (including Burna Boy).  
Education and career
Believe it or not, 'Mama Burna' is a Queen's College, Port Harcourt alumni. With a Bachelor's degree in foreign languages and a Masters' in translation, Bose Ogulu had a successful career working as a translator for the Federation of West African Chambers of Commerce. She can speak French, Italian, German, English and Yoruba fluently. She was also the CEO of Language Bridges, a language and music school, where she organized cultural immersion trips for over 1,800 young people.
"I studied languages and went around the world doing it," she said in 2019. "I remember in 'uni' they called me back three times. They said 'do you not want to change to the law department?' 'You are a very smart student.' I [simply] said, 'No, I want to study languages." She also taught French for 10 years at the University of Education in Port Harcourt, retiring in 2018.
Today not only does she manage Burna Boy, she also manages his sister Nissi Ogulu (aka Nissi Nation), a visual artist and musician; and her father, author Benson Idonije. 
At the 2019 BET International Awards, she made another headline grabbing speech: "Thank you very much, BET. Thank you, Africa, because that is the constituency for which we got noticed in the first place, and the message from Burna I believe would be that every person should please remember that you were Africans before you were anything else, thank you." 
The last part of that speech made it unto Burna's Grammy-nominated album "African Giant". "I feel like there was no better way to close the album. Because I feel like that's basically the whole message in one little speech … I wouldn't have said it like that. I probably — It was perfect, the way she did it," Burna Boy said about this to The Fader in 2019. 
Parenting
Bose Ogulu's parenting style draws a parallel with her own upbringing and she has been outspoken about allowing youth and kids follow their passions. She believes it is important to give children permission and support so that they are confident to chase their dreams. Speaking to journalist Damola Durosomo in 2019, she said, "I still am, friends with my parents. We were friends. So, I learned to be friends with my children. It's a tough balance. Because, you have to whoop their backsides as well. And then, know when to sleep."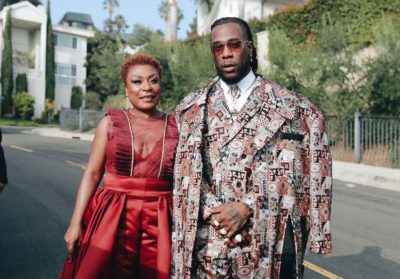 Myths
There is always one rumor or the other making the rounds on the interwebs and one of them is that Bose Ogulu used to be one of Fela's dancers. This is actually incorrect as she would've been a child at the time her father worked for Fela. "How could I have danced for him? Chronologically, it doesn't add up…when did I dance for Fela?" she said in a 2019 interview, saying instead that Fela was the closest thing she had to a godfather. 
Beliefs
Bose Ogulu is a force of nature and she has very strong beliefs that guide her daily. For starters, she doesn't care about online hype: "When the speech went viral and everyone supposedly loved me, or whatever, I remember telling one of my daughters that I don't get excited about this love because they're going to abuse me in a minute, because I'm going to keep saying and doing exactly what I think," she said during a 2019 podcast interview. 
She is also a strong proponent of integrity and advocates for everyone to live their truth. "I'm not saying get yourself locked up like Fela, but speak your truth. If it's a lie and you know it's a lie, don't say it. Don't get paid to say it," she said. Bose Ogulu also admonishes young women to go after what they want and keep doing work that will make it impossible to be ignored. "I've never gone through life looking for anyone to make space for me. I try to create my own space or fill the space that is available so that I am relevant."
Bose Ogulu might be everyone's favourite cool mum-auntie on Burna's internet but she is much more than that. She is a mother, teacher, talent manager, wife (for 29 years), entrepreneur and mentor. Her son just also happens to be one of the biggest artists on the continent.
Ⓒ Copyright NET News Ltd. All Rights Reserved. Please use sharing tools. Do not cut, copy or lift any content from this website without our consent.