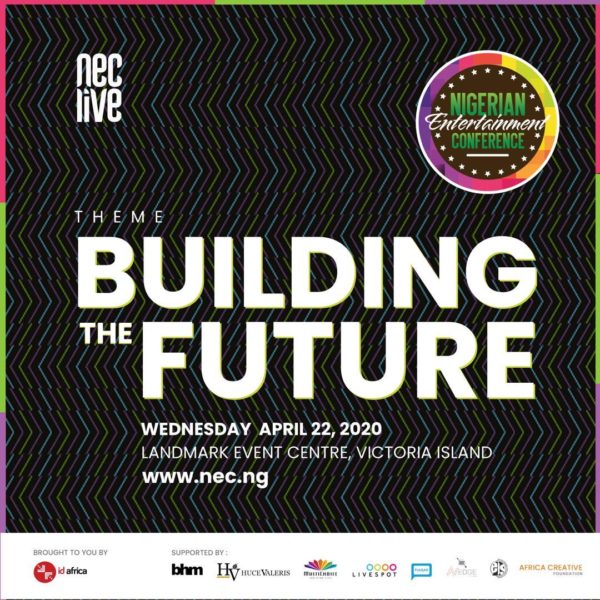 For the past seven years, NECLive has run as an intensive full day, nine-hour event featuring powerful panel sessions, insights from industry leaders and critically innovative conversations. However for 2020, a new programme format has now been introduced which features various events, activities and experiences over a three-day period.
NECLive will hold at the Landmark Center, Lagos on Wednesday, April 22, 2020 from 10am while the NECLive concert will take place at the same venue from 5pm the same day. Satellite events will hold on Thursday and Friday in various parts of Lagos.
Here are five reasons you should register for this year's event and not miss it:
1. NECLive will feature insightful presentations from notable personalities
The theme for the event: "Building The Future", will explore various ways of maximizing the potential and impact of recent strides in distribution, cinemas, events, promotions, exhibitions, productions and festivals, and how stakeholders can erect the infrastructure necessary to build the desired future for Nigeria's creative and entertainment industry.
2. Solutions to current challenges in the industry will be proffered
NECLive8 will broach tougher conversations and nudge stakeholders towards extracting more value from the ecosystem than is currently obtainable. It will also provide an opportunity to introduce more experiential consumer activations and activities which will offer more value to attendees, creatives and brand partners.
3. Training
Participants at NECLive8 will have an opportunity to learn from professionals and stakeholders in the entertainment industry. The training will involve workshops and masterclasses that will inform and guide young starters in the industry.
4. Product exhibitions
NECLive8 will feature some of the products that will be pivotal in building the future of entertainment in Nigeria. Participants will have a rare opportunity of seeing technology products and services that will be useful for advancement of their individual or collective careers.
5. Awards and concerts
Not only will there be insightful presentations on the future of entertainment at NECLive8, there will also be premium entertainment for participants with the presentation of awards to some of the biggest personalities in Nigeria. And for the first time ever, there will be a one of a kind concert featuring some of the biggest music superstars in the country.
Regular

: Live Conference (Keynotes & Panel discussions); Free for students with valid ID, event partners and volunteers.
Premium

: Live Conference + Workshops + Masterclasses + Reserved Seating + Meeting Room & Lounge Access + Satellite Events 

Free:

Live Conference. Available only to students with valid ID.
Speakers, panellists and performers will be announced soon on the official website, while interested attendees can now visit nec.ng for sponsorship enquiries and to register to attend.
Ⓒ Copyright NET News Ltd. All Rights Reserved. Please use sharing tools. Do not cut, copy or lift any content from this website without our consent.